NEW DELHI: The highways ministry kicked off consultation with stakeholders on Monday to develop a satellite township along the 18-km stretch between Z-Morh and Zojila tunnels on Srinagar-Leh highway. It would be developed as a winter destination with modern facilities for winter sports, luxury accommodation and other necessary infrastructure in collaboration with the administration of Ladakh and Jammu and Kashmir, sources said.
Union road transport and highways minister Nitin Gadkari chaired a preparatory meeting on Monday with the representatives of Ladakh and J&K administration including the J&K lieutenant governor Manoj Sinha and senior officials from the ministry and Border Road Organisation (BRO).
"Now all stakeholders would work together for conceptualisation of the projects and a high level committee may be formed. The minister said developing the township will boost tourism and will create employment opportunities for the locals," said a source.
Last week Gadkari had said the plan was to develop a township that can be more beautiful than Davos in Switzerland.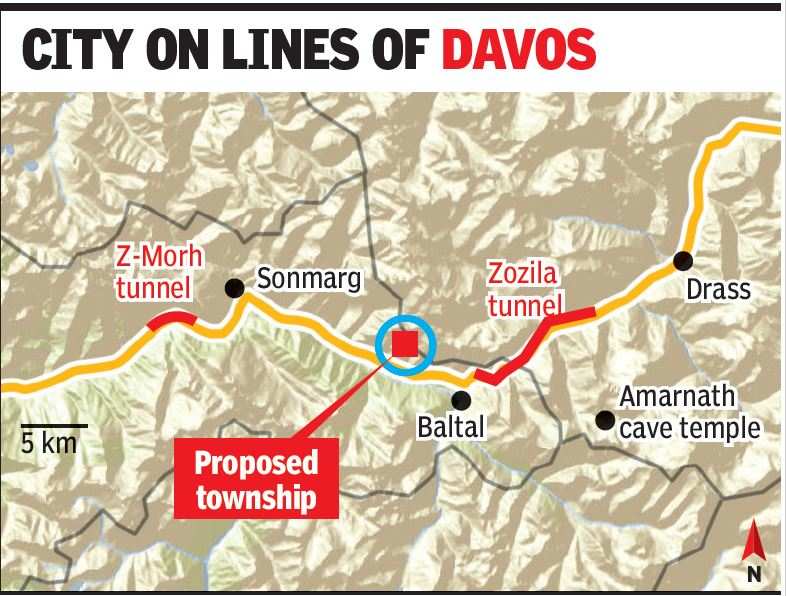 Sources said tourists taking this route to reach Leh usually halt at Drass and Kargil on the way and the proposed township can be the best option. "A helipad is also being constructed near Zojila tunnel as a part of the mammoth tunnel project. This can be used for tourism purposes as well. The idea is to develop this entire stretch as a tourism spot. This can be developed on a public-private partnership (PPP) model," said a source.
Officials said the 18-km stretch has two huge snow galleries of 450 metres each, two small tunnels and another eight cut-and-cover stretches. They said the possibility of developing a golf course can also be explored on this stretch as land is available along the highway.