NEW DELHI: Should
Virat Kohli
hand over the Test captaincy baton to his deputy
Ajinkya Rahane
and focus entirely on his batting?
That's a debate that began and took on a life of its own after India beat Australia 2-1 recently in what was an unforgettable Test series win. Now, after the loss to England in the first Test in Chennai, that debate has been reignited.
The fans seem to be divided over whether the Indian Test captaincy baton should change hands. Those who feel it should, point to the fact that this was India's fourth successive loss under Kohli's captaincy in Tests.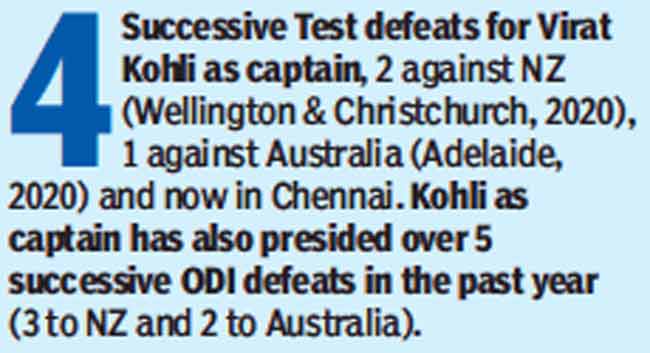 But that can't be reason enough to replace a captain who took India back to the Number One ranking in Test cricket and was at the helm of affairs when India beat Australia in Australia in a Test series for the very first time (2018-19).
Overall in Test cricket, India has won 33 Tests out of 57 played under Virat's captaincy. That's a win percentage of almost 58.
There is of course a tendency to ask for an immediate change when a team doesn't fare well for a while under someone. In this case people also have the recent Test series win in Australia on their minds, which was achieved under the leadership of Ajinkya Rahane. But Virat's overall records show that a sudden change in captaincy is something that is perhaps not in the offing immediately.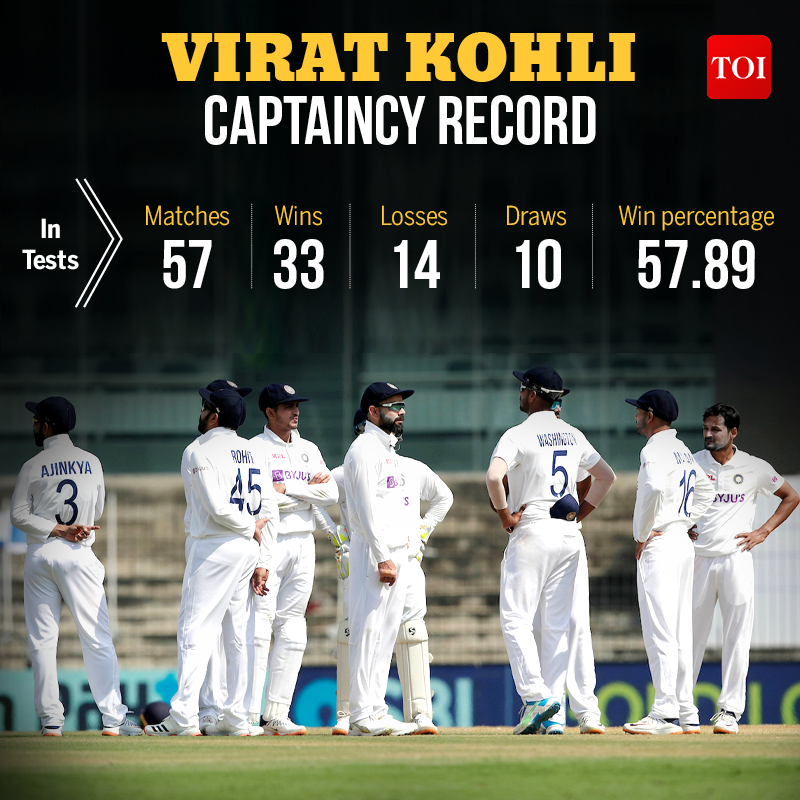 Former England spinner Monty Panesar though feels the heat is on Virat to deliver results and anything short of a series win could trigger a change in the Test captaincy.
"If he loses this Test series, they'll probably change the captain. This is a big series for Kohli to win and if he's not able to do that, I think it would be the end of his captaincy. It is time when Virat just probably should focus on his batting. If this Test series is not won by India, then Rahane should take over the captaincy (in Test cricket) from Virat," Panesar told Timesofindia.com.
There's no doubt that Virat is the most prolific batsman India has produced since Sachin Tendulkar. His batting records speak for themselves. He is a proven match winner. He is also hands down one of the fittest players in world cricket. There is no debate over those things. But when it comes to captaincy the debate goes on.
Virat took over as India Test captain in 2014. He was handed the reins of the limited overs sides in 2017. In December last year VVS Laxman said Virat's captaincy was 'a work in progress'.
With India trailing 0-1 in the current four-Test series, Panesar also said that Kohli will be under immense pressure to put India's campaign back on track after the Chennai debacle.
"Virat will be under pressure. This is an important series for him. If he loses the second Test, I think he should give up his captaincy. Because India will be down 2-0 in the series, and they should change the captain. Virat desperately needs a win or a draw. If he doesn't, it could be his last match as captain," Panesar, who played 50 Tests, 26 ODIs and 1 T20 for England told TimesofIndia.com.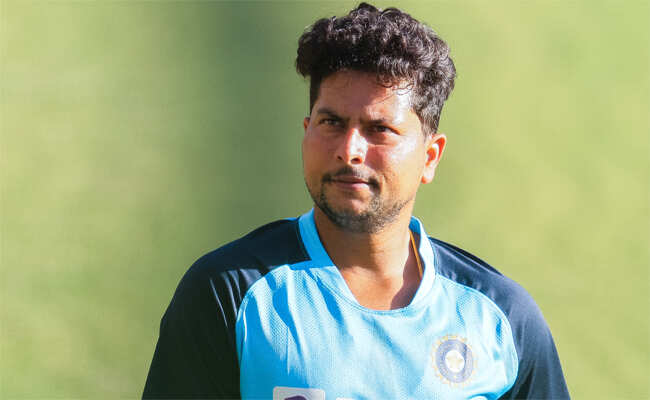 Kuldeep Yadav (Getty Images)
THE KULDEEP YADAV CONUNDRUM
Shahbaz Nadeem's inclusion over Chinaman bowler Kuldeep Yadav in the India XI for the Chennai Test raised many eyebrows.
It seemed like Axar Patel was being seen as a first choice pick, but when he was ruled out of the first Test with knee pain, Nadeem, who is also a left arm spinner was drafted in.
After the 227 run loss to England many felt that Kuldeep Yadav, a chinaman bowler should have perhaps played. The likes of Sunil Gavaskar and Akaash Chopra spoke about how in hindsight Kuldeep's inclusion would have perhaps been a good move.
Kuldeep last played a Test match in January 2019 against Australia in Sydney where he claimed a five-wicket haul. He was included in the India squad for the recently-concluded Border-Gavaskar series, which India won 2-1, but didn't get to play a single game.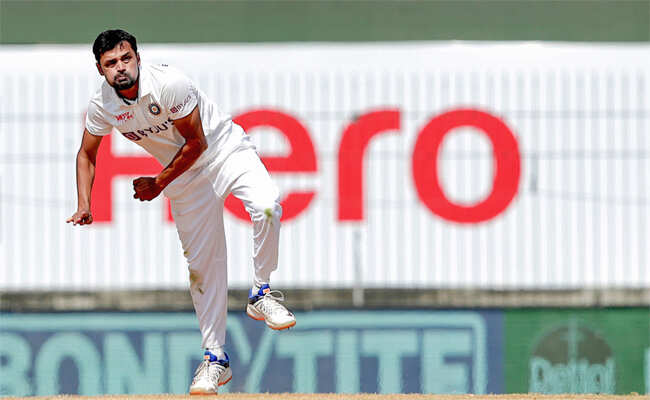 Shahbaz Nadeem (PTI Photo)
However, after the Chennai Test on Tuesday, Virat though made it clear that the team management does not regret not playing Kuldeep.
Panesar though, was in the group that was surprised by Kuldeep's non selection.
"I think India went defensive in their selection policy. They should have picked Kuldeep Yadav in the first Test. He should have been included as a second spinner in place of Shahbaz Nadeem on that track. It was really surprising to see Virat not go for Kuldeep," Panesar said.
"That was not a good call. I think Kuldeep should have been an automatic selection. England haven't really practiced against a Chinaman bowler. So, Kuldeep would have done wonders for India. Nadeem wasn't sharp and probably was the weakest link in the team. There was no need to play Nadeem. And third and final point is India badly missed and struggled without Ravindra Jadeja. India were defensive in their approach," Panesar further told TimesofIndia.com.
It will be very interesting to see if Kuldeep is included in the playing XI for the second Test. Washington Sundar didn't take a single wicket in the first Test in Chennai, but his 85 run knock showed that he brings a lot to the table as an all-rounder and he is expected to retain his place in the side.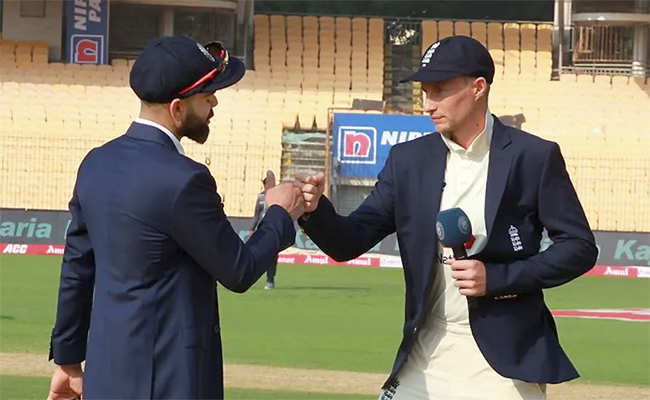 (PTI Photo)
THE TOSS FACTOR IN THE CHENNAI LOSS
In hindsight, it was a very bad toss to lose for India in the first Test in Chennai. But like Virat said after the match nothing should be taken away from the visitors, who he felt were more professional and consistent in their approach.
"India need to make some drastic changes and need to play some unbelievable cricket. Again, it will totally depend on the toss in Chennai. Whoever wins the toss, tends to win the game. Toss will be a huge factor in the next Test match. Virat would be wanting to win the toss
"It was brilliant bowling from England. Look at Anderson and how he bowled. That's what we call experience. Jofra was creating pressure from one end and Anderson used his experience well against Indian batsmen. Toss also played a huge factor. Whoever would win the toss, would bat first. England batted first and that's made a huge difference," Panesar said.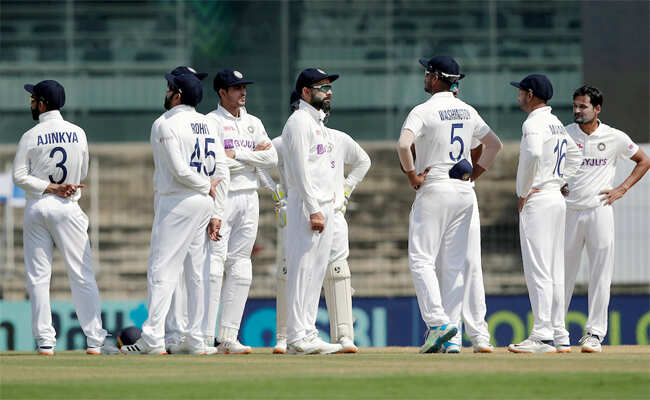 (PTI Photo)
WHOSE SERIES IS IT ANYWAY?
In Australia, India found themselves in a similar position after the first Test of a four Test series. But they bounced back hard and won the series 2-1 overcoming multiple obstacles.
A spirited comeback is the need of the hour for Team India.
For the English, who already have their tail up, it's a matter of continuing to do what they did right in the first Test and work on the few minor chinks in their armour.
Joe Root led with both the bat and his leadership skills in England's big win in Chennai. Root, who guided England to a 2-0 series win in Sri Lanka before the current tour of India, was part of the England team that beat India in India in 2012-13. That in fact was his debut series. He will be itching to emulate Alastair Cook (England captain in the 2012-13 series in India) with a series win in India under his leadership.
"England are favourites to win the series. This is one of the greatest victories England have had away from England. (The) Chennai win sets up England to win the Test series now. Joe (Root) is unbelievable. He's taken on the responsibility. He feels like he's been the number one, so that's why he wants to show that. He is tremendous. He is probably the number one batsman in world cricket right now," Panesar who was part of the series win in India in 2012-13 told TimesofIndia.com.