NEW DELHI: The
72nd Republic Day parade
on Tuesday witnessed several firsts and first-time misses due to the Covid pandemic. A 122-member Bangladesh contingent, two IAF women pilots, IAF's newly acquired multirole fighter aircraft Rafale, troops deployed in the Andaman and Nicobar Islands and a tableau of newly constituted UT of Ladakh made their debut in the parade.
However, for the first time in over five decades the R-Day parade had no foreign dignitary as chief guest as British Prime Minister Boris Johnson, who was supposed to come to India, had to cancel his visit at last minute due to a spike in new-strain Covid cases in his country. Also, this time there was no participation of military veterans and motorcycle-borne daredevils, who used to be the parade's centre of attraction in past years. Due to Covid restrictions, even the route of the marching contingents was curtailed till National Stadium (C-Hexagon of India Gate), unlike last time when it was till Red Fort. However, tableaux were allowed to roll down till Red Fort. Even the size of the marching contingents was reduced from regular 144 to 96 so as to keep social distancing among personnel and masks made mandatory among them. The number of spectators was also restricted to 25,000 from 1.5 lakh this time.
Despite all these Covid-triggered restrictions, the enthusiasm level among spectators was not down. The armed forces showcased their latest weaponry like T-90 tanks, Brahmos missile system, Pinaka multiple launch rocket system, bridge laying tank T-72, integrated communication electronic warfare system and one upgraded Schilka weapon system — some of these systems are currently deployed in Ladakh to prevent any Chinese incursion.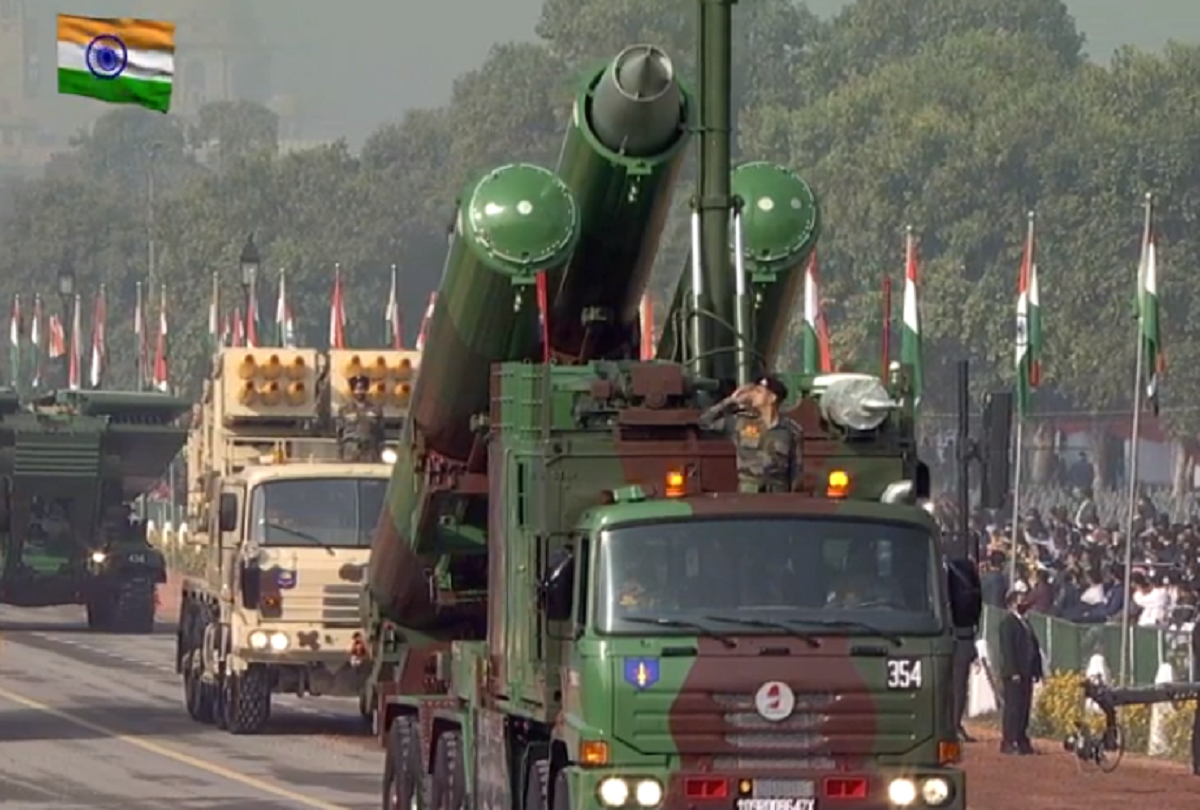 Two Param Vir Chakra and one Ashok Chakra awardees participated in this parade, which was led by parade commander Lt Gen Vijay Kumar Mishra, AVSM, general officer commanding Delhi area, and his second-in-command Major General Alok Kacker, chief of staff Delhi area.
The 122-member Bangladesh military personnel marched in two contingents, one marching contingent and one military band. The marching contingent comprised personnel from three services and was led by a flight lieutenant, navy lieutenant, one Major and 3 Lt Colonels. Talking to TOI before the parade, Bangladesh Army Colonel Mohtashim Hyder Chowdhury, who is leading the military team to India, said, "It's a great honour for us to become part of India's 72nd Republic Day parade. Most of the parade personnel are from those Bangladesh units that were raised during the 1971 Liberation War. In fact, we are very fortunate to be part of the parade of "our friend" India at a time when our country is celebrating 2020-21 year as the birth centenary of our father of nation, Bangabandhu Sheikh Mujibur Rahman, and also the 50th year of Bangladesh's independence. We express our gratitude to all those Indian veterans who sacrificed their lives in the 1971 liberation war." This was the third India has hosted a foreign contingent to participate in the parade after the French troops in 2016 and the UAE personnel in 2017.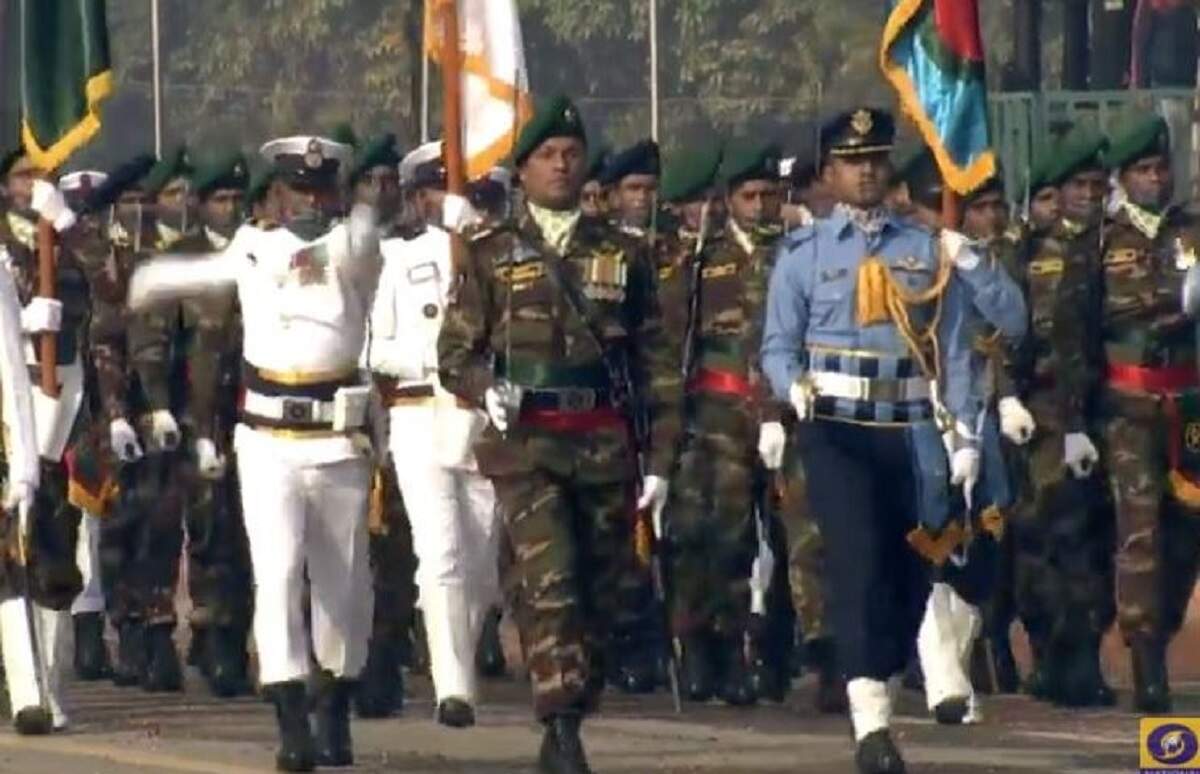 Seventeen marching contingents from the armed forces, paramilitary, Delhi Police, NSG, NCC and NSS along with 15 military bands participated in the parade. The Indian Army was represented by a mounted column of 61 Cavalry, seven mechanised columns and six marching contingents.
Major Manish Verma, who led the 172 Madras contingent from the Andamans for the first time, told TOI before the parade, "For the first time, any contingent from the (A&N) islands is participating in such a big event on the mainland and therefore boys are very excited. Over 95% personnel are locals who are from different tribes. Our unit, which is part of Madras Regiment, was raised for the sons of the soil and its objective is to create a robust intelligence in the area." The contingent comprised 96 personnel, 2 JCOs and one officer, said Major Verma.
Flight Lieutenant Bhawana Kanth, who became one of the first three women fighter pilots on May 22, 2019, was one of the star attractions of the parade. Kanth, who has become the first woman combat pilot to participate in the parade, took a salute in front of President Ram Nath Kovind when her IAF tableau featuring mock-ups of a light combat aircraft, a light combat helicopter and a Sukhoi fighter jet loaded with made-in-India missiles passed by the VVIP enclosure.
The Indian Navy''s tableau showcased models of Indian naval ship (INS) Vikrant and naval operations that were conducted during the 1971 India-Pakistan war. The Defence Research and Development Organisation (DRDO) showed two tableaux, one showcasing light combat aircraft Tejas' successful take-off from aircraft carrier INS Vikramaditya, and another displaying full complement of the anti-tank guided missile systems.
A total of 28 tableaux from different states and departments rolled down Rajpath. Among them was the tableau of Ladakh that made its debut in the parade. It depicted the iconic Thikse Monastery, the region's rich cultural heritage and the vision of Ladakh to be carbon neutral. The UP tableau displayed a model of the upcoming Ram temple and the tableau of the Department of Biotechnology showcased the indigenous production of Covid vaccines highlighting India's self-reliance in the fight against the pandemic.
While the tableau of ministry of electronics & IT was inspired by the theme 'Digital India, Aatma-Nirbhar Bharat', the labour ministry tableau showed the segments benefiting the most from 'Labour Codes'. Other tableaux that drew visitors' attention were the sun temple at Modhera in Mehsana District of Gujarat, tea-tribes of Assam, shore temple and other monuments of Pallava Dynasty in Tamil Nadu, Bhakti Movement and saints of Maharashtra. Four cultural items were presented by schoolchildren.
The centre of attraction of the parade was when the IAF displayed the country's air prowess amid times of the LAC standoff with China. A total of 42 aircraft flew in different formations but all eyes were on the Rafale fighter when it performed a "vertical charlie" at the end of the flypast. A vintage Dakota aircraft, the squadron of which had helped Indian troops 'save' Srinagar from tribal militants backed by Pakistan in 1947 and also played a key role in Bangladesh's liberation war, also flew over Rajpath. Apart from two Rafales, Sukhoi-30s, MiG-29s, Apache and Chinook choppers also drew visitors' attention. Another IAF woman pilot Flight Lieutenant Swati Rathore got the honour to be the first woman to be part of this year's flypast when she flew a Mi-17 V5 helicopter in a formation of four choppers.
Though the 90-minute parade concluded with the release of balloons by the Indian Meteorological Department, Delhi police personnel, who have been on their toes since Tuesday morning for the parade preparations, started gearing up for another "march" of the day — protesting farmers' tractor rally, which is likely to go on till late Tuesday evening.